Compared with traditional toilets, portable building sites sanitary container mobile toilets have the advantages of strong adaptability, creativity, low price, low carbon environmental protection, convenient movement, and high safety.





1. Terrain and landform adaptation




The container toilet has a small volume and does not need to make a big change to the geomorphology. It can use the micro-geomorphologic forms such as slope, ditch, ridge and platform in the original geomorphologic environment to form flexible and changeable forms along with the construction of high and low, which is suitable for different geographical environments of plain, hilly, mountainous, plateau and basin.


2. Climate adaptation
Container has strong, durable, high security features. Wind resistance reaches level 10 and earthquake resistance level 8, with natural water tightness. In case of severe natural disasters, independent modular units will not be shattered and have strong climate adaptability.
3.Good sealing, waterproof, pollution-free, strong strength, convenient transportation and installation, the service life of more than 20 years, the overall weight of the product is light, strong stability, can be used repeatedly. The welded steel frame is adopted to meet the strength requirements of frequent movement and hoisting. Frame surface spray container special anti-rust primer and finish. No seams on the surface, smooth, easy to clean, easy to maintain. The surface of FRP has good corrosion resistance to acid, alkali, and salt spray, suitable for all kinds of damp and corrosive environments.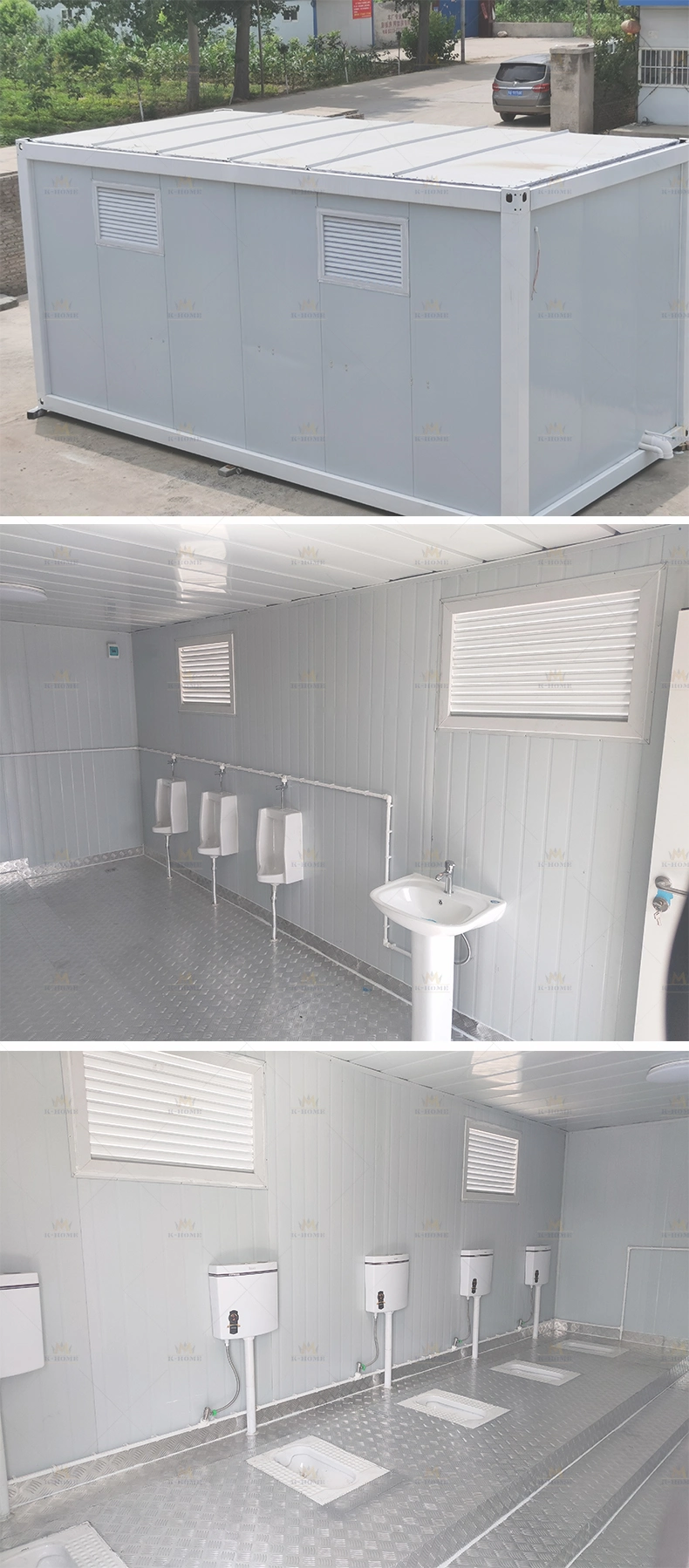 The size of container toilet can be customized, the following specifications are only for the container toilet in the picture. We can make customized production according to the size you need, the appearance color of the container house, and the thickness of the sandwich layer can be customized.

Specification of the 20 feet container unit
size

Length

5950mm

Width

3000mm

Height

2800mm

Standard accessory

Roof System

Top structure

Steel frame

1.Steel Structure




2.Top Structure




3.4Pcs Columns




4.Roof Steel Frame

Wall System

50/75/100mm EPS

sandwich panel, rock wool

sandwich panel, glass fiber sandwich panel,

or PU sandwich panel

Door System

Steel door / Fire-proof door / Sandwich panel door

Window System

Aluminum alloy shutter window and the plastic-steel window, single or double glass

Floor System

PVC, plywood or customized

Technical parameter

Resistant Temperature

-40ºC to 40ºC

Water Resistance

Great

Earthquake Resistance

Grade 8
Additional Configuration Instruction
The mainframe adopts the mainframe welded by the galvanized square pipe.

The load-bearing structures are all frame structures, and the material selection and welding of the integral structural components meet the national standards.

Our bathroom use sandwich board, They are firm and durable, the material of glass ensured the daylighting of toilet and permeability.

The outer wall is made of sandwich board, the color is stable, the dust can be removed by rainwater, it is resistant to ultraviolet radiation, not easy to age and has toughness. Not easy to damage, sound insulation and heat insulation, impact resistance, not easy to damage.

Our bathroom roof structure chooses the material and structural design is reasonable, having very good waterproof.

Our toilet is not only beautiful in appearance, but also obvious in the application of heat preservation.

The density of partition is higher than others, so his strength should be higher than other partition panel, Moreover, they have better waterproof with moistureproof effect.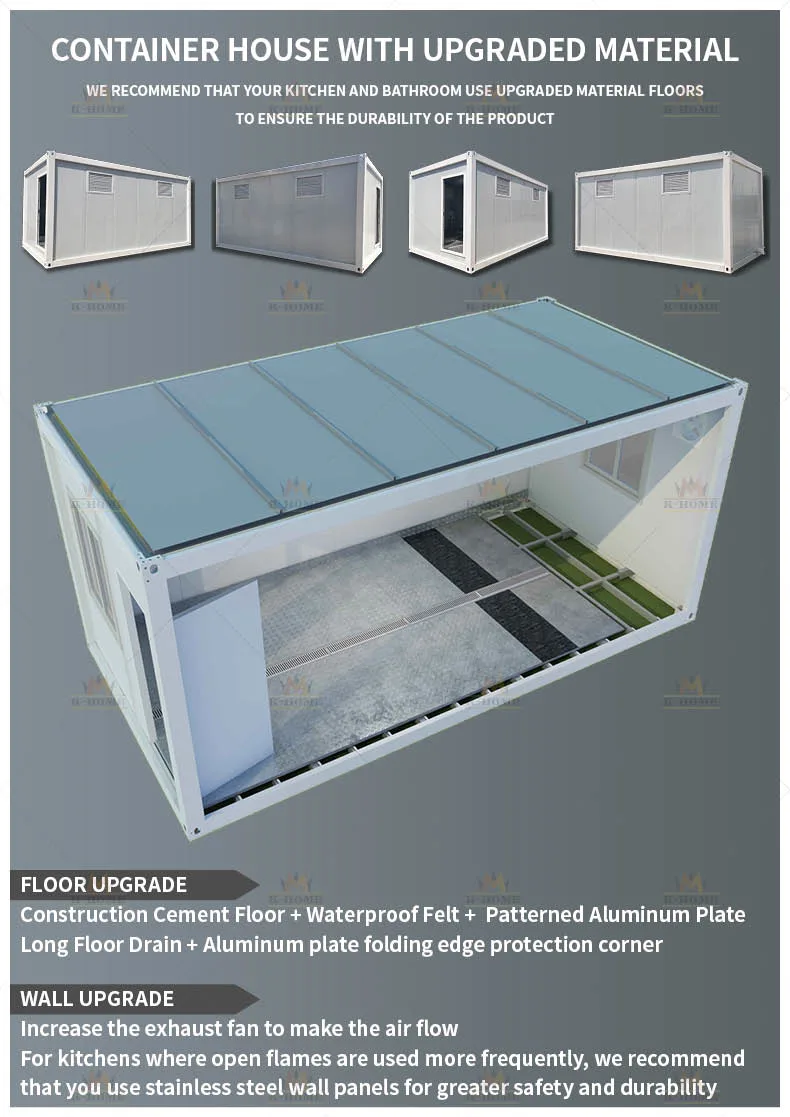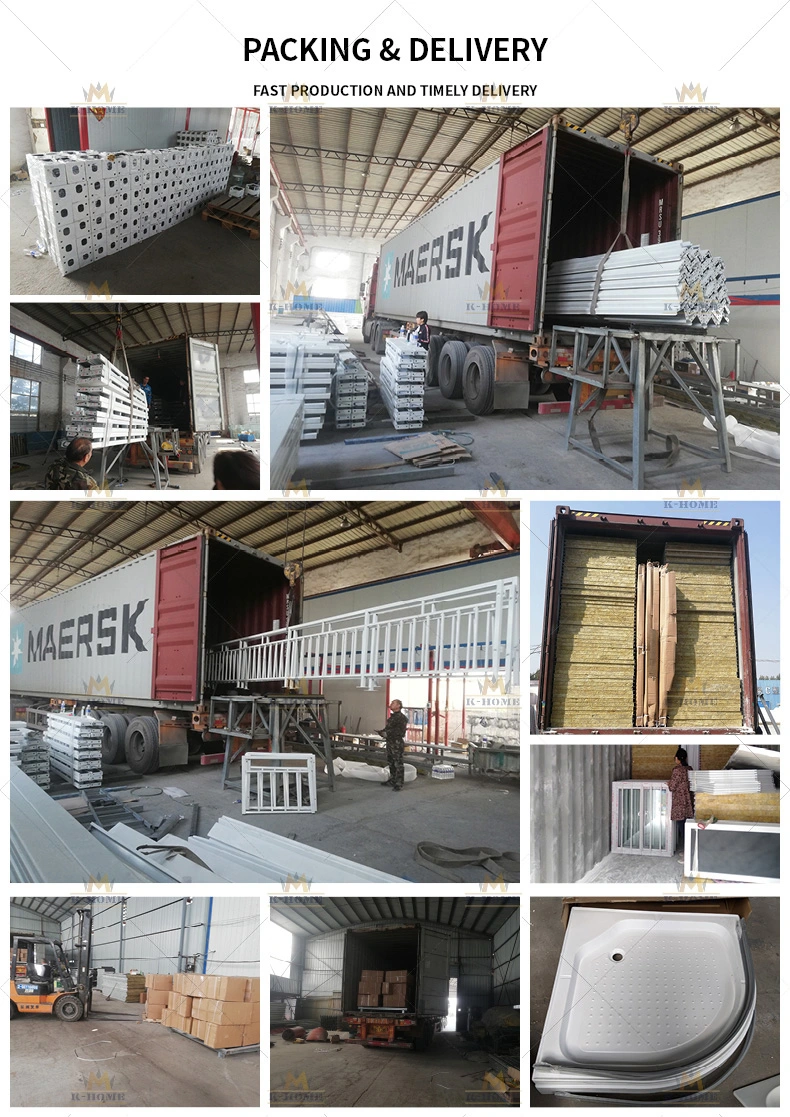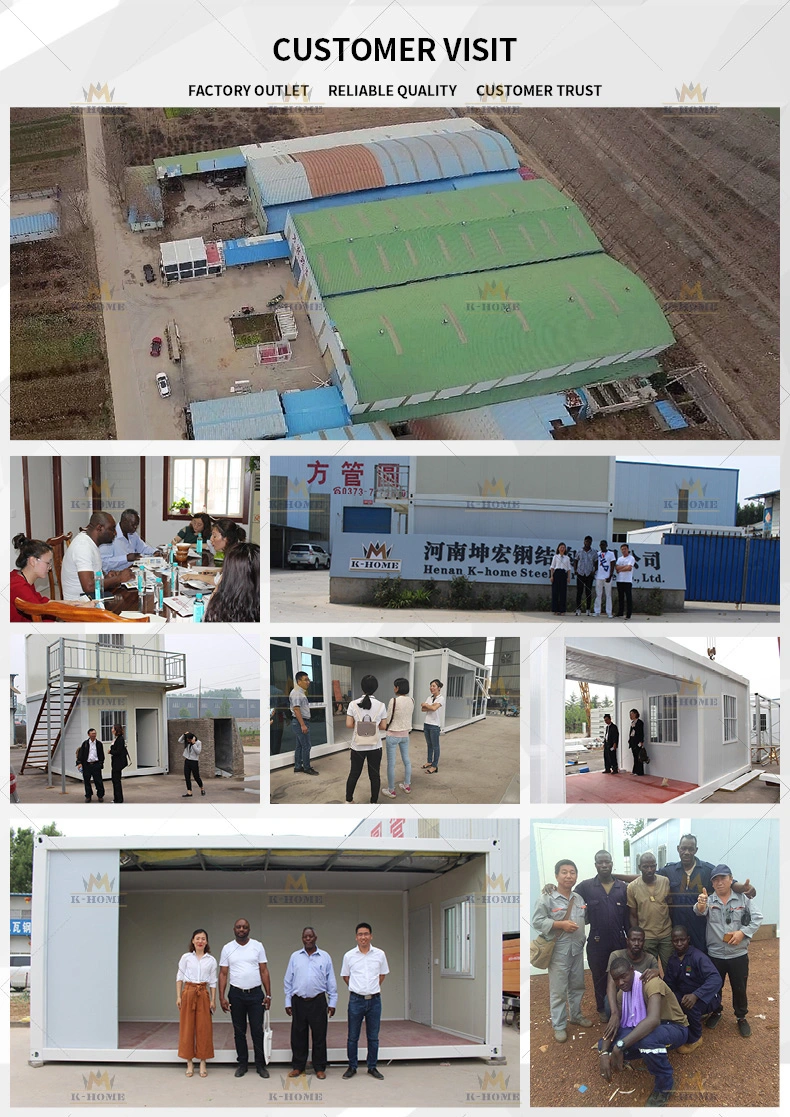 Henan K-home Steel Structure Co., Ltd is located in Xinxiang, Henan Province. It is a self-operating private enterprise, established in the year 2007, registered capital RMB 20 million, covers an area of 100,000.00 square meters with 260 employees. We are engaged in design, project budget, fabrication, installation of steel structure and sandwich panels with second-grade general contracting qualification. Our main products covered sandwich panels, OEM prefab house, container house, construction material, light steel structure house, light steel villa, non-standard design house, steel structure projects, and installation service.
K-home promises after-sales service promises to provide after-sales service and maintenance for customers
1.Provide customers with detailed usage and maintenance manuals
2. Quality problems occur during using, communicate and solve actively
3. Committed to building a global network, better service for customers
4.Regular return visits and maintenance to customers
1. How can the products adapt to different climates?
Strong wind region: improve the wind-resisting ability of the internal structure.
Cold region: increase the thickness of the wall, or use good insulation material, improve the anti-pressure ability of the structure.
High corrosion region: use corrosion-resistant material, or paint anti-corrosive coating.
2. How about the payment?
By TT, 40% deposit in advance, the 60% balance before the delivery.
3.How long is the delivery time?
Regularly 7-15 days, this depends on quantity and products.
4. How about the delivery date?
Yes. We can accord your requirements.