Mobile Yard Ramp
The mobile boarding bridge is an auxiliary equipment for loading and unloading cargo used in conjunction with forklift trucks. The height of the car can be adjusted according to the height of the carriage. Forklift trucks can directly drive into the carriage through this equipment to carry out bulk loading and unloading of cargo. Only single person operation is needed to achieve rapid loading and unloading of cargo. It enables enterprises to reduce a large number of labor, improve work efficiency, and obtain greater economic benefits.
The special diamond-shaped grid plate is used on the table with reliable strength, which can ensure long-term use without deformation. Its diamond mesh structure fully guarantees excellent anti-skid performance and makes forklift truck have better climbing and maneuverability. Even in rainy and snowy weather, normal use is guaranteed.
The adjustable length of the cable chain can easily hook up the truck, so that the boarding bridge and the truck are always closely connected.
The height adjustment of boarding bridge can be easily realized without external power supply by using hand-operated hydraulic pump as power.
The brake pad can effectively prevent the boarding bridge from shifting during loading and unloading.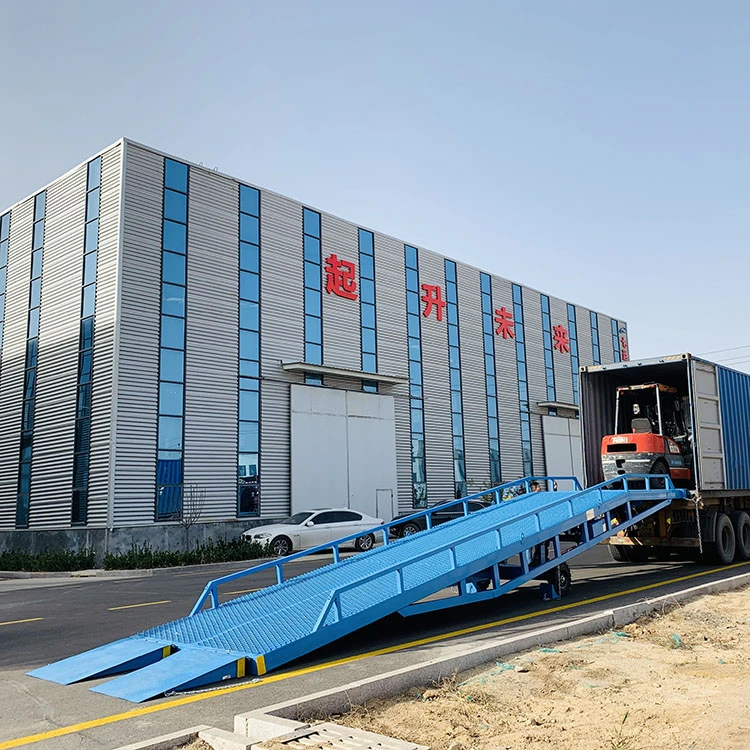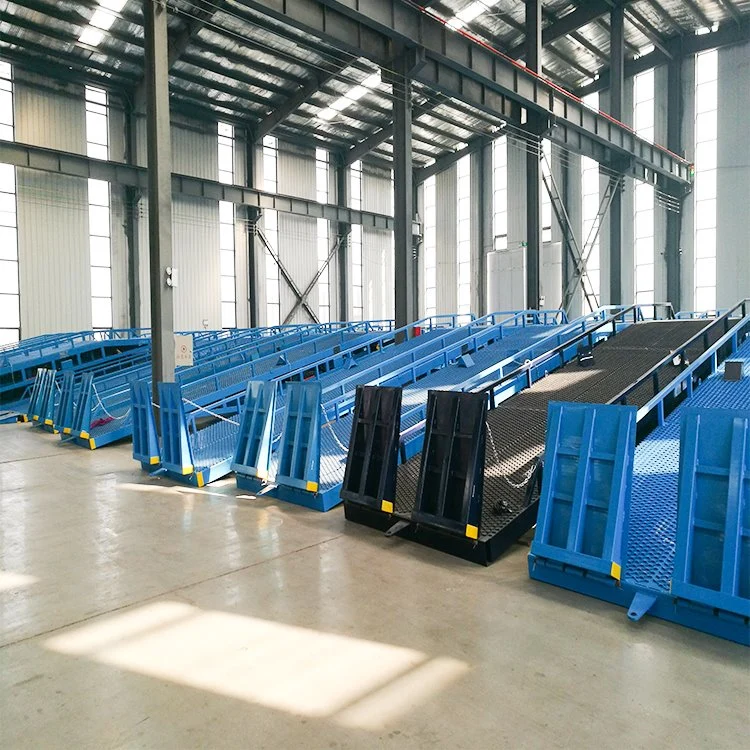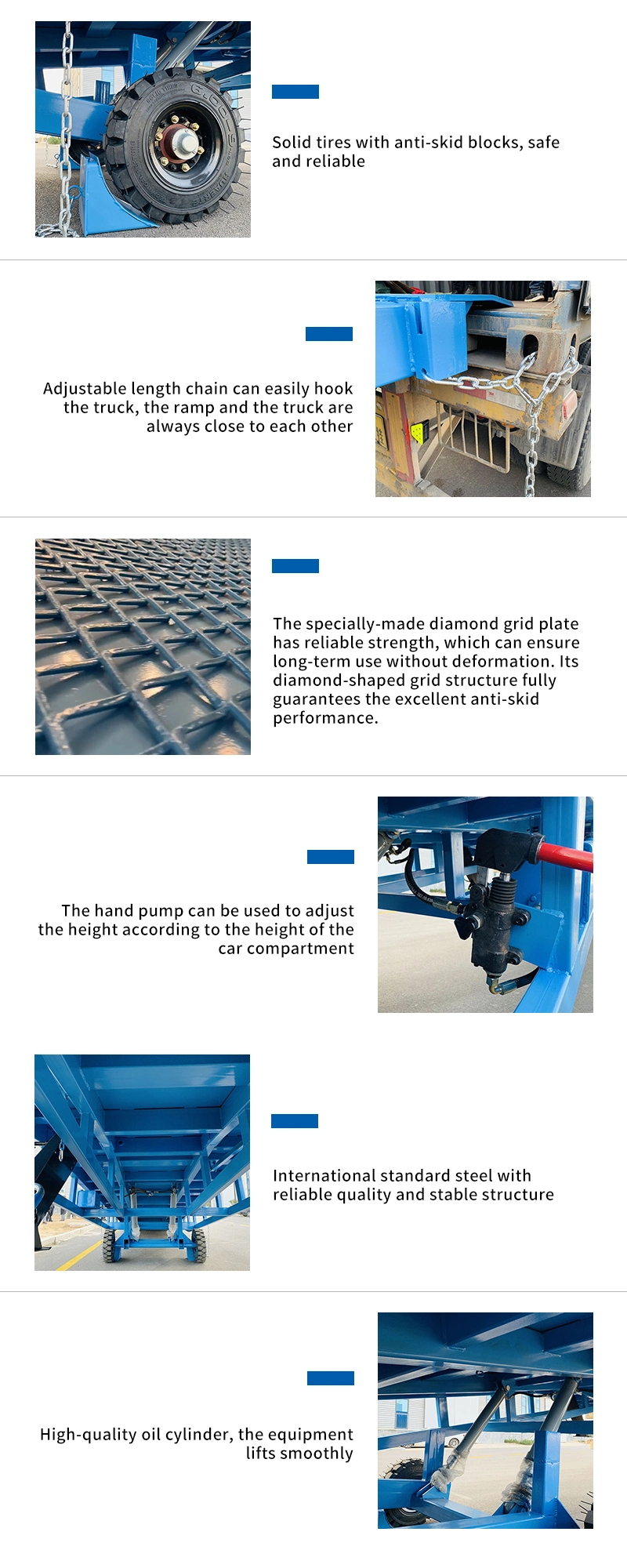 | | | | | | |
| --- | --- | --- | --- | --- | --- |
| Load capacity | Dimensiones | Main girder | Solid tyre | Cylinder | Lip |
| 8T | 11800*2120*1100 | 160*80*4 | 600-9 | 80*50 | 16 |
| 10T | 11800*2120*1100 | 160*80*4 | 600-9 | 80*50 | 16 |
| 12T | 11800*2120*1100 | 160*80*4 | 600-9 | 80*50 | 16 |
More models or customized requirements, please feel free to contact us.

FAQ:

1. Is your product customized? Yes, because the conditions are different, all products are customized depending on detail requirement! If you give us more details about our products, we will give you a very quick quote!

2. What's the information should I provide when inquiry?
The more information you provide, the accurate solution we can prepare for you!
Such as the capacity, lift height, platform size or other specials you give us will be more appreciated.

3. What is the minimum order quantity?
It is one set, and of course, the more the better.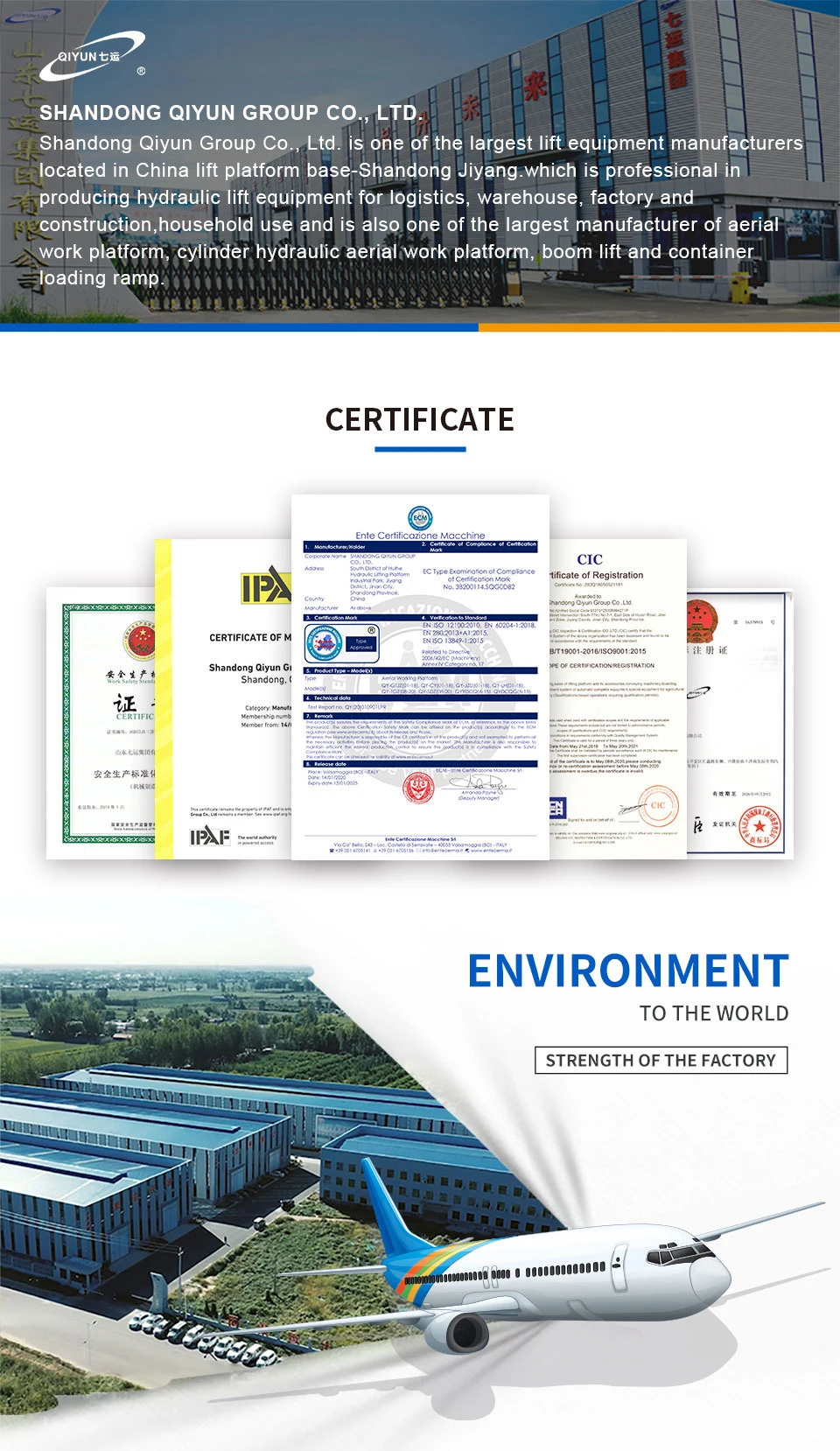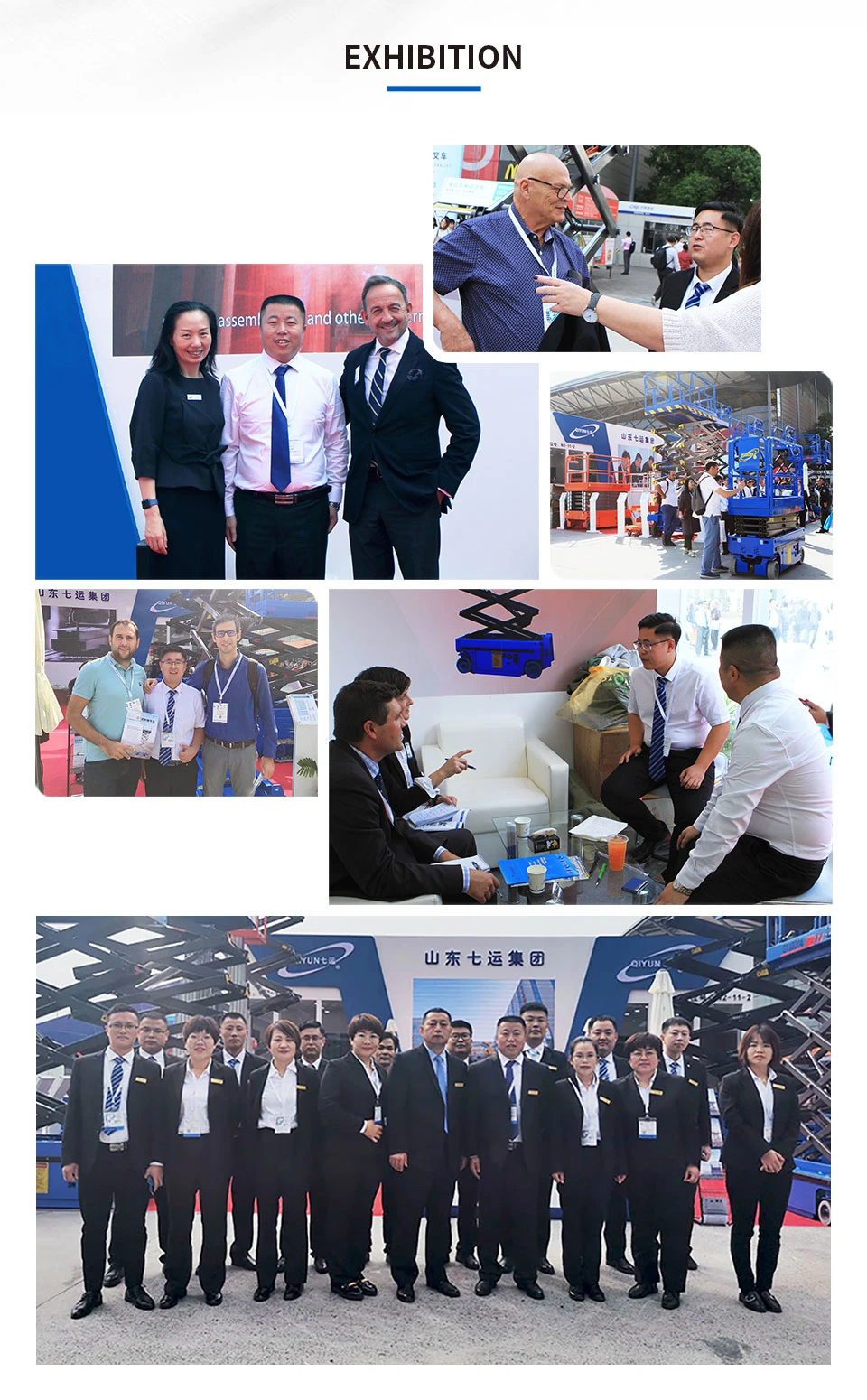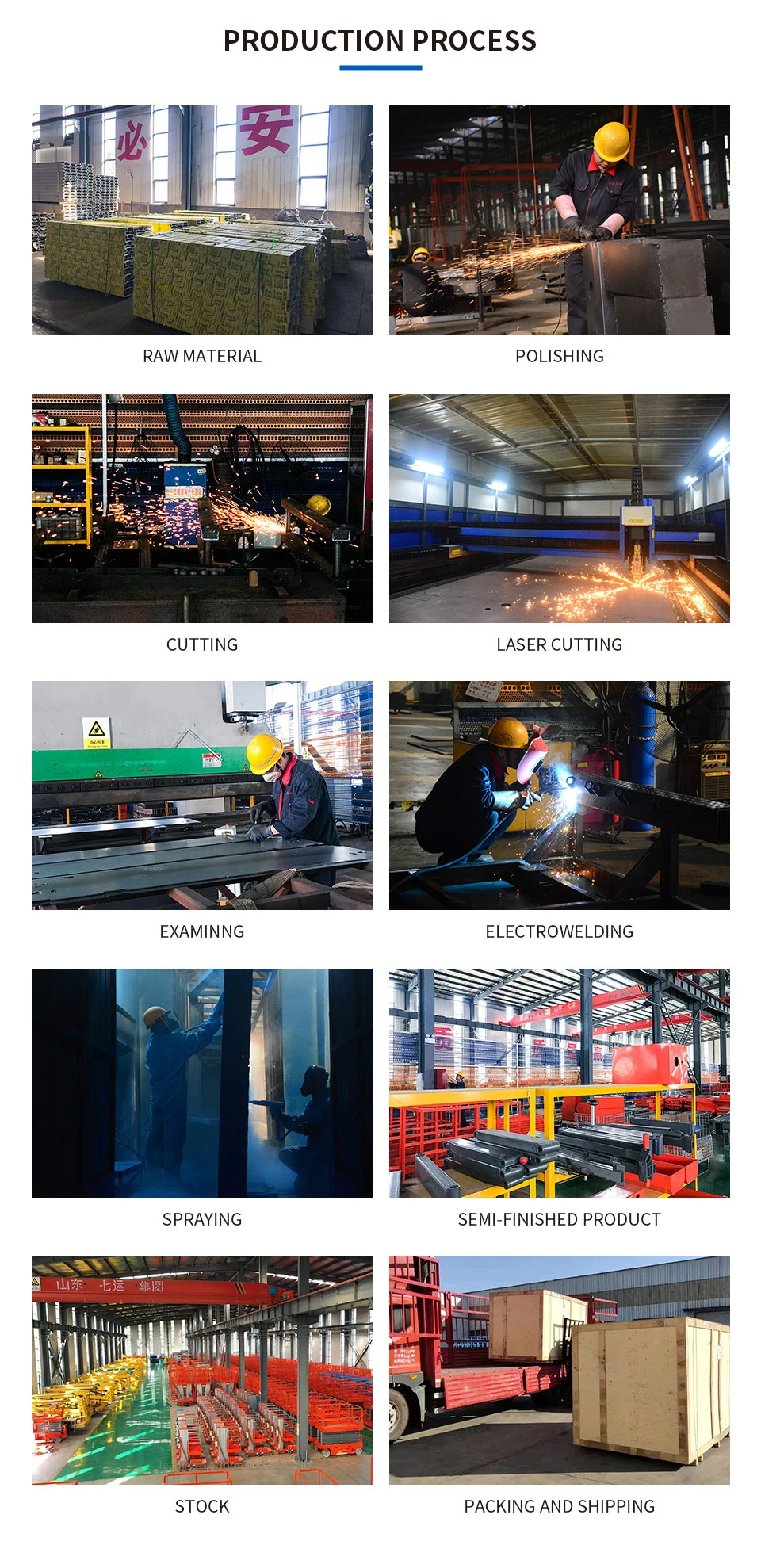 1. The outriggers must be supported before work.
2. When the lift is in use, the work surface should be level.
3. During the lifting process of the machine, personnel are strictly prohibited from climbing.
4. Overloading is strictly prohibited during use and the contents should be properly placed.
5. The lubricating oil used should be kept clean and must not be mixed with water and other impurities. It should be replaced every 3-6 months.
6. When the maintenance or failure occurs, the power supply should be cut off in time.