Rated voltage: 3VDC/6VDC/9VDC/12VDC
Coil Resistance: 17.5Ω±0.5Ω(20
ºC
)
Switch Mode: DC pulse
Pulse Width ≥30ms
Working Pressure 0.02Mpa-0.8Mpa
Media Temperature: 1
~
75
ºC
Responding Time: Open≤0.15s Close≤0.5s
Service Life ≥1000000 cycles
Technical Feature
Instruction
Rate voltage

DC 6V

Ac12V

DC 12V

AC24V

DC 24V

Coil resistance

17.5

Ω

±0.5

Ω(2

0

ºC)

17.5

Ω

±0.5

Ω(2

0

ºC)

36

Ω

±0.5

Ω(2

0

ºC)

40

Ω

±0.5

Ω(2

0

ºC)

130

Ω

±0.5

Ω(2

0

ºC)

Min current

228mA

480mA

300mA

250mA

166mA

Switch mode

DC pulse

AC and DC continuous

Pulse wide

≥

30ms

Operating pressure

0.02Mpa-0.8Mpa

Media temperature

1

ºC--75ºC

Responding time

Open

≤0.15s close≤0.5s

Pressure and flow rate diagram:




Pressure (MPa)

0.02

0.05

0.1

0.2

0.3

0.4

0.5

0.6

0.7

0.8

Flow rate L/min

3

12

20

29

32

35

37

39

42

45
Performance test
Strength test

Static pressure 1.6MPa

Withstand voltage pressure 1.2MPa/5min

No-load test

Voltage 3.6V pulse width 30ms

Permissible limiting voltage V*1.15

High water pressure start and close

At water pressure 0.8MPa,voltage DC 4.5V,pulse width 30ms,the solenoid valve can be started and closed normally

low water pressure start and close

At water pressure 0.02MPa,voltage DC 4.5V,pulse width 30ms,the solenoid valve can be started and closed normally

Leakage upon high water pressure

1.2MPa without leakage

Leakage upon low water pressure

0.02Mpa leakag

e

≤0.1ml/min

Electric strength

Among conductive part, mounting hole and nonconductive metal, it can withstand 500V/50Hz,leakage current 0.75mA for 1 min without the breakdown

Insulation resistance

The resistance between the charged part and nonconductive metal part tested by megohmmeter of 500V

≥20M

Ω






Sealing test






Static pressure

Air

High pressure

1MPa

Low pressure

0.02MPa

Cold water

High pressure

1.2MPa

Low pressure

0.02MPa

Hot cold

High pressure

0.8MPa

Low pressure

0.02MPa

Service life

≥

1000000 cycles
Requirements of working environment
Temp of working environment

1

ºC--60ºC

Permissible limiting pressure(water)

≤

1.2MPa

Humidity of working environment

35%-90% RH

Mounting direction

It is mounted in vertical. The inclination do not exceed 15 degrees

Storage temp

-5--80

ºC no freezing state

Storage humidity

25%--95% RH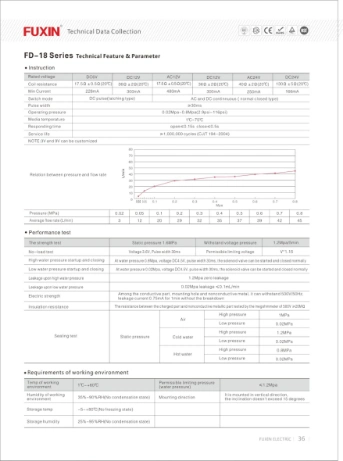 1)Our advantage:
We are the manufacturer with more than 15 years experience in sensor sanitary solenoid valves. Best price, quality and service, Also we can control the production status.
Fuxin
team with strong ability in designing and after sell service. Cooperation with Carrier has improved our quality to a new level.
2)Terms of payment:
T/T, L/C, Western union.
3)Shipment:
average 20-25days after receiving deposit.
4)Delivery:
Shanghai/Ningbo ,by sea or air.
5)Gurantee:
One year since delivery.
6)Inspection:
100% testing for all the valves.
7) All kinds of CERTIFICATE OF ORIGIN.
Welcome to choose Fuxin's products
, we are always ready!
FAQ
Q: Do you have factory?
A: Yes, Our factory is located in Taiwan- Taichung, covering a land area of 6,000 square meters.
Q: What's the warranty of your product?
A: All of our products have one year warranty.
Q: What certification your product have?
A: We have passed the ISO9001:2008,CE,ROHS,NSF,ANSI
Q: What is the delivery date?
A: 10 days after order confirmation
Q: Do you accept OEM/ODM or sample order?
A: Yes, we accept both OEM/ODM and sample order.
Q: What are your terms of payment?
A: T/T and Bank Transfer